There is no doubt about it, getting a home sold in today's market can be difficult. Therefore, it is important to take a few simple steps in order to increase the chances of getting your home sold quickly and at a reasonable price – no matter if you're selling Rehoboth Beach, Bethesda real estate, or just about anywhere else. Fortunately, you don't have to invest a great deal of money into a home in order make it more marketable. In fact, here is a look at five simple repairs that will help you sell your home faster.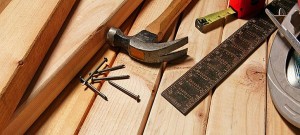 Simple Repair #1: Replacing the Front Door
No matter how well you take care of your home, your front door is subject to wear and tear. Whether from regular use or from weather changes, front doors get dinged, dented and faded. Since your front door will be responsible for creating your home's overall curb appeal and because it will play an important role in making a first impression on potential buyers, you want to be sure it's a good one. Therefore, it is well worth your investment to replace your front door or to make any necessary repairs to make it look just as good as new. To take it a step further, choose an energy-efficient door to replace your old one. Today's buyer is always looking for the little extras that will help cut back on energy costs.
Simple Repair #2: Repair Grout and Tile
As a homeowner, it can be easy to look past broken and cracked tile and grout. Yet, when potential buyers come to view your home, this will be one of the first things they notice. Therefore, you should be sure to repair or replace any crack, chipped or discolored grout and tile before you put your home on the market.
Simple Repair #3: Apply Fresh Paint
Over time, paint slowly becomes less vibrant. Furthermore, due to regular wear and tear, certain parts of your interior walls may become chipped or even damaged. You can give the inside of your home a fresh, new look by simply repainting all of the walls before you put your home on the market. When choosing your colors, be sure to select neutral shades that will be likely to appeal to the broadest range of potential buyers.
Simple Repair #4: Repair Household Systems
When looking for a home, buyers want to be confident that all major systems are in proper working order. Furthermore, your home inspection will involve checking on your household systems to ensure they are working properly, so you can save yourself a great deal of hassle down the road if you make any necessary repairs before putting the house on the market. Systems to check for necessary repairs include the electrical, plumbing and HVAC systems.
Simple Repair #5: Replace Bathroom and Kitchen Fixtures
Replacing certain fixtures in your bathroom and kitchen can go a long way toward improving the look of these two important rooms while also increasing the overall appeal of your home. Installing water-efficient faucets, for example, will give both rooms a facelift while also appealing to eco-conscious buyers. Taking this a step further by installing a water-efficient toilet and showerhead in your bathroom will be sure to win over many potential buyers.
About The Author – Kevin Koitz is a Washington DC native and specializes in Bethesda condos as a member of the Koitz Group.